In the past, poultry farming in Kenya was mainly small scale and that means many farmers rarely mechanized their farms. They only invested in feeders and drinkers and they were done. The rest of the equipment and materials used in the farm were subsequently only improvised. However, if you are serious farmer who would like to make profits from your poultry farming venture and not just rear them as a hobby, you have to invest in top quality poultry farming equipment that will give your farm a competitive advantage and help you in maximizing your poultry production in Kenya. Investments in poultry equipment in Kenya is not just limited to the large farmers. It will also reduce the amount of time that you would spend in managing the poultry thus significantly reducing the labor costs in your poultry farm.
There is a great variety of poultry equipment that you can use in order to ensure that your farm is running efficiently and smoothly. They also ensure that you do not have to spend a lot of time or money on labor costs. Some of this poultry equipment is not available in Kenya and you may have to import them from countries such as China or South Africa or even Uganda.
Poultry Feeders
These are generally a must-have although some farmers still improvise on this. Check out our article on the improvisation of poultry feeders and drinkers. A good and innovatively designed feeders will allow your chickens to feed efficiently and also reduces injuries and contamination during feeding. Feeders should always be cleaned regularly in order to prevent rodent infestations and incidences of diseases such as coccidiosis. They need to be cleaned on a regular basis, let to dry well and then replenished with fresh feed. The new feed must always remain dry.  The feeders should be red in color in order to invite the birds so that they can feed more often and put on more weight and lay more eggs. There are plenty of feeders, feeder platforms and chick feeders that you buy for your birds.
Poultry Feeders
Some of the common feeder designs include the following:-
Baby chick feeders: These are ideal for chicks. They have a narrow feeding area which prevent the chicks from contaminating the feed with their droppings and thus wasting feed.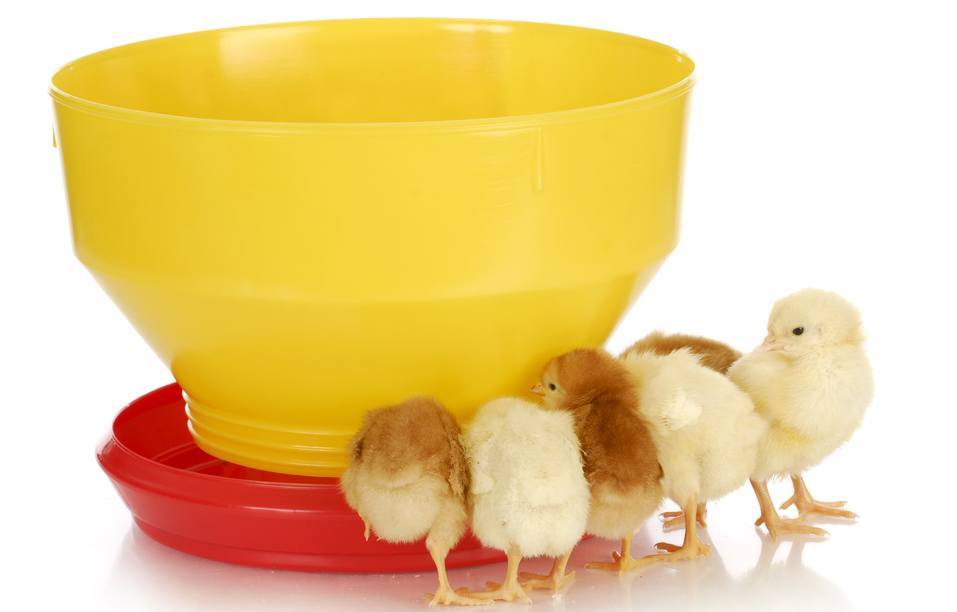 Range Feeders: Ideal for larger birds. They are heavier and not easily blown off.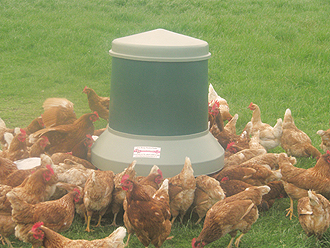 Galvanized Trough Feeders: These are very similar to the trough feeders we discussed here but they have a revolving rod at the top and this prevents chicks from roosting on top and contaminating the feed with their droppings.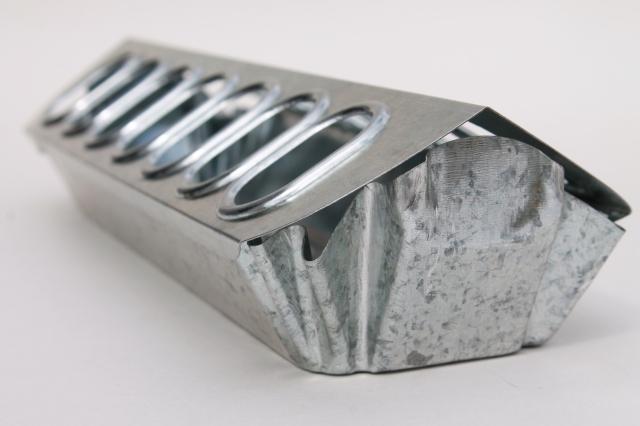 Poultry Chain Feeding Systems:- Chain feeder systems provide the ultimate feeding solution that is low labor and low stress in more intensive poultry farming ventures.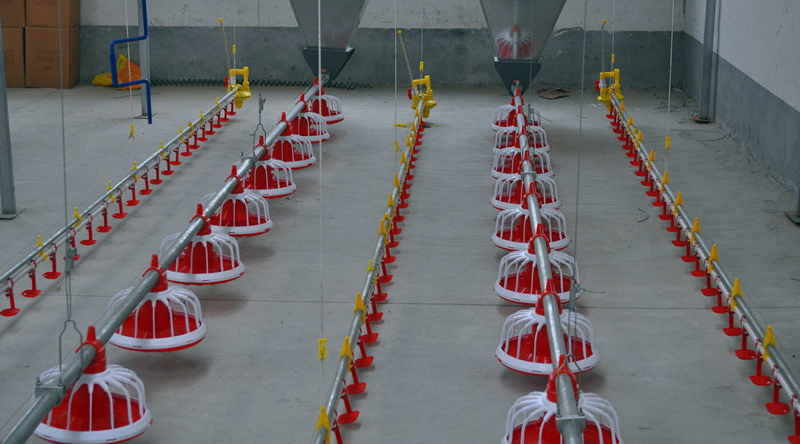 Poultry Feeder for Chicks:- There are numerous companies with numerous designs for the baby chick feeders. Below is a nice design but the problem with this is that only a few chicks can feed at a time. It is not very efficient if you have over 500 chicks otherwise you will have to buy almost 50 of these.
Broiler Pan Feeding System: The broiler pan feeding system below consists of several parts. The Feed Hopper can have various capacities and has an electronic limit switch. There is an anti-perch line which prevents birds from starting on its tube. There is a drive unit has a pressure switch for maintaining feed levels. Gear motor provides consistent operation ensuring uniform distribution of food in the pan feeding system.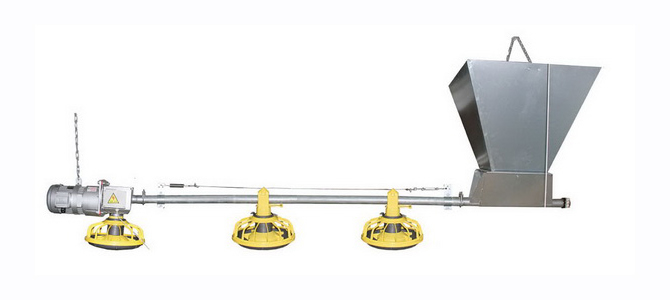 Stainless steel serving pans:- This serving pan is an interesting design which I saw on Alibaba.  Not sure of its efficacy though since I have not tried it out.
Poultry Watering Systems
Clean drinking water is a critical factor in poultry production. Your poultry must always have access to clean drinking water at all times. To prevent diseases such as fowl typhoid or coccidiosis, these waterers must be cleaned on a daily basis and replenished with clean water. Using red waterers, like red feeders, will encourage the chicken to drink more often so as to keep hydrated and healthy. In baby chicks, special care should be taken by using proper drinkers in order to prevent them from drowning. There are numerous waterer designs which are available in the Kenyan market. Some are not easily available and you may have to import them into the local market. Some of the drinkers available in the marketplace include  the following :-
Automatic Bell Drinkers:- With the automatic bell drinkers, you can ensure that there is a constant supply of clean and uncontaminated water to your poultry. The drinker will also prevent spillage of water in the poultry farm which will prevent coccidial oocyst which might infect birds and cause coccidiosis. It also ensures that there is no direct picking from droppings thus contributing in effectively ensuring there is no incidences of diseases in your poultry farm attributed to hygiene issues. The design of the automatic bell drinkers ensures that there is no perching or defecation in the water by the poultry thus making the drinking water free from any form of contamination. When you use the automatic bell drinkers, the farm beddings will be 100% dry. Prices vary based on desired sizes.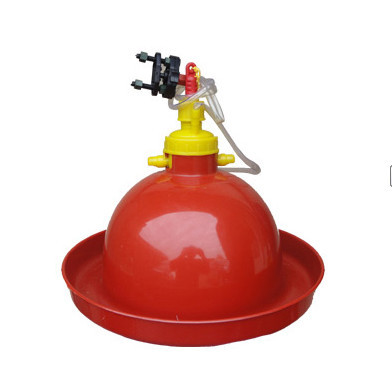 Chicken Nipple Drinkers:- The nipple drinkers are very efficient and suitable for commercial farming. Chicks simply tap at the nipple ends to drink water. There is zero contamination and zero spillage of water on the ground. Below is a nipple end for the poultry nipple waterers or poultry nipple drinkers. This costs only Ksh.200 so you can even construct your own nipple drinkers using plastic pipes and a jerrican.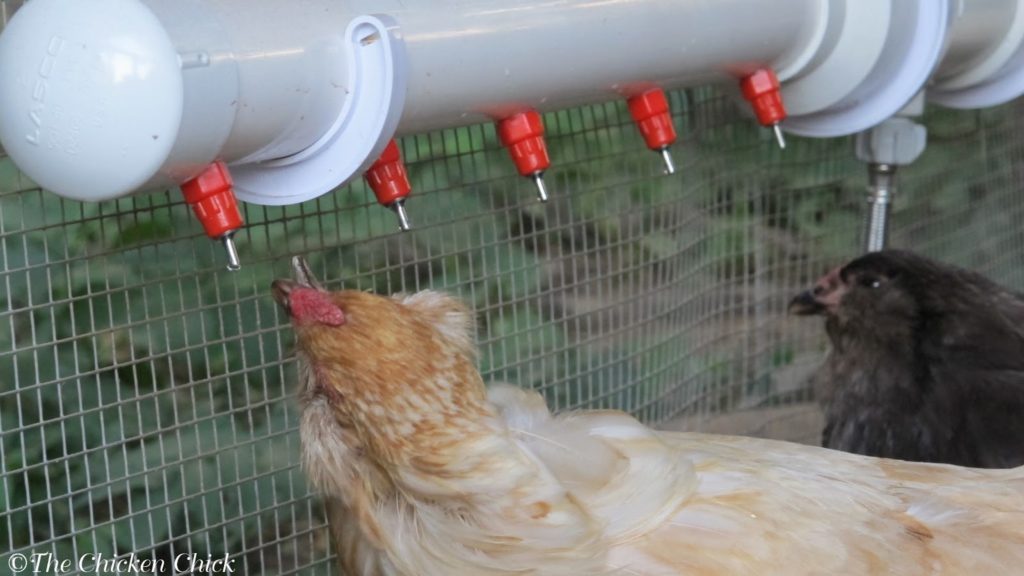 With lots of technological products available in the market, you do not have to insert your chicken in boiling hot water  and pluck the traditional way. You can invest in a little poultry plucker machine.  This is a good investment if you will be dressing your poultry in your small farm. You can pluck feathers quickly without damaging the skin of the poultry. The machine can dress several birds in less than 10 minutes. It is a good poultry equipment addition if you are running a semi-intensive farming operation.  It also cleanses the chicken skin after plucking and can you can proceed with packaging.
>